Oh my goodness 50 followers. That's so exciting. I remember getting excited when I had 4 followers. Welcome to my corner of the universe, and thanks for following my gibberish. You're all gorgeous, and slightly crazy!
So, I've been thinking. I know! This is something I do a lot. I find you must think regularly on a daily basis or your brain will cease to exist or something. Sure it's hard and gives me a seriously huge headache, but I like my brain and I wana do what I can to keep it.
So anyway, the A to Z challenge is getting closer, over 1000 gorgeous peeps have signed up (freak out!). I didn't really plan to have a theme for it, I was just gona pick some random words then wing it on the day. But the other day I was just sitting there watching The Twilight Zone (it's playing on the horror channel right now, sooo good) and a totally random though/idea just popped into my head, you know the way they do when your not even thinking about the subject, then all of a sudden you can't stop thinking about it. Like pics of naked people!
The random idea is to have a theme called Alphabet wishes; A Collection Of Poems. It's confusing me though because I did already have my list of words and a few ideas kicking around, but I never really 'felt' anything while I was thinking about them. Now whenever I think about doing me poems, I get that feeling I've come to love so much. I don't know what it is, the Universe, God, Fred, but whatever it is it's always right - so it's probably not Fred! (Fred is my idiot subconscious). The thing is though, I've never done poetry before, I suck with words and I'm pretty sure my poems will be crap. But I've been loving working on the few that I have come up with, so I'm just gona do it. But this is worrying me a lil; can I let you all read crap for a full month, hahaha? I'll blog some other stuff as well I guess and the poems will be really short. I suppose If I enjoy doing it that's all that matters right? It will be good practice for me too. So what do you think, should I do it?
About commenting - A lot of peeps are asking that word verification is turned off for the challenge because it's annoying. Of course they have asked more politely then that, but for those of you who want to turn it off and don't know how, even if you're not participating in the challenge, you will find a great video at
pearsonreport
. Also if you'd like to find out what the challenge is all about, you can do that
here
.
Here is a picture I did on
queeky
last night: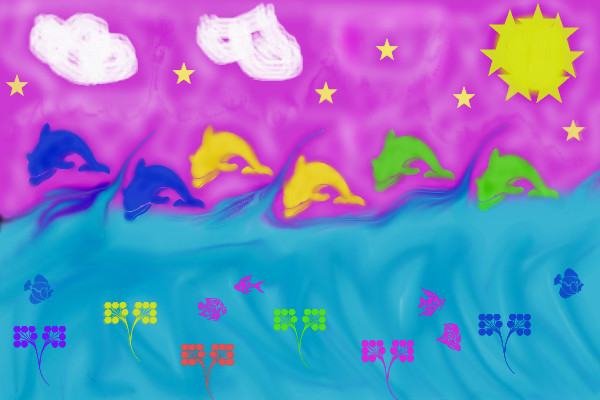 I really have no idea so don't ask!